It is with great pleasure (laced with just a hint of terror) that I introduce to you my latest project. It's a kind of linguistic factory where Word Spy words, definitions, citations, quotations, and lots of new text are tossed into a hopper, various editorial processes ensue, and along the conveyor belt on the other end come shiny, new books (and, soon, other media).
It's called Word Spy Press and I describe it as "books for people who love words." I'll tell you a bit about it here, but I encourage you to also drop by the Word Spy Press website and take a look around.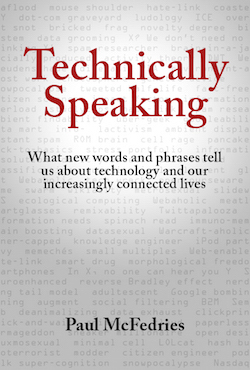 First off the line is Technically Speaking, a collection of my favorites from the column of the same name that I've been writing for IEEE Spectrum magazine since 2002. Each column looks at the new words and phrases associated with some aspect of technology (such as gadgets or social media), but there's plenty for non-geeks, too (such as new terms for junk food and business). The book will be available in both PDF and print editions on June 1st, but you can find out more — and even preorder your copy at a special price — from the Technically Speaking web page.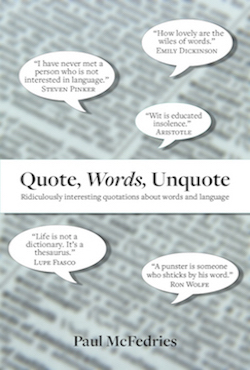 Next is Quote, Words, Unquote, a collection of quotations about words and language on topics ranging from neologisms to names and by authors ranging from Douglas Adamas to Zeno of Citium. This book will also be available in both PDF and print editions coming this July, but you can find out more — and, yes, preorder a copy at a reduced price— from the Quote, Words, Unquote web page.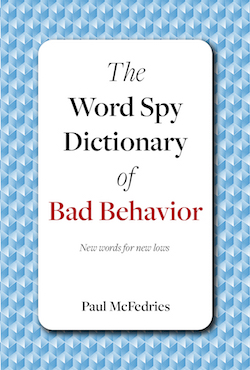 Oh, but there's more. Word Spy Press also offers The Word Spy Dictionary of Bad Behavior, a neological celebration of the dumb, silly, boorish, and bad-mannered things that people do. The PDF and print editions of the book won't be available until August, but in the meantime you can get more info (and do me a solid by preordering the book) from the The Word Spy Dictionary of Bad Behavior web page.
If you want to stay informed on the latest releases, news, and special offers, go to the Word Spy Press home page and sign up for the newsletter. You'll get a free ebook for your trouble.