n.
A home where what is seen at ground level is only a small part of structure, with the rest being underground.
2017
Mr. Graham already infuriated neighbours five years ago with plans to dig four storeys below his mansion in Knightsbridge to build a swimming pool, a three-car garage, a gym, a ballroom, changing rooms, a hot tub, wine cellars, an art storage room and servants' quarters. His subterranean escapade became a hot topic in London and shed light on the growing trend among the superrich for "iceberg homes," named because most of the house is below ground.
2016
The new property, dubbed an "iceberg home" because so much of the development is underground, will house a 65ft swimming pool, bar, hammam or Turkish bath, games room, gym, massage room and hot pool.
2015
I observed that there was a vogue for digging out enormous basements beneath London properties—creating so-called "iceberg houses"—and asked him if he approved. "I don't have a problem with people digging a big hole in the ground and living in it," he said.
2007 (earliest)
These "iceberg" houses, so called because the below-ground additions extend well beyond the property's street-level footprint, are becoming more common in all types of neighbourhood, as homeowners realise that staying in an expanded version of one's existing home is often less expensive and less hassle than finding, buying and moving into another, bigger house.
Many thanks to Karen H. for spying this term.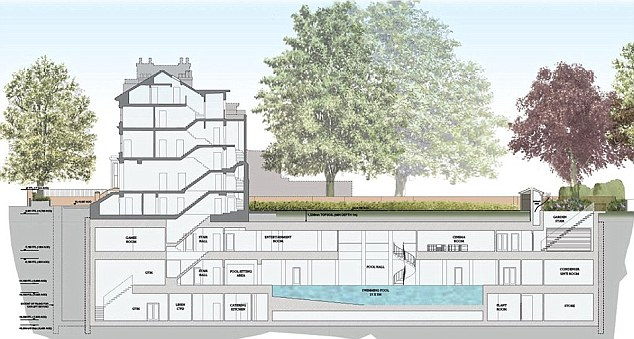 Plans for an

iceberg home

. Source: Labour Westminster