n.
A house that opens onto a back or side lane, particularly on a lot that has an existing dwelling.
2015
Their two-bedroom, 1,050-square-foot laneway house is sleek and energy-efficient, and designed to meet their exact needs. And it was more affordable than they expected.
2014
Slated to be destroyed to make way for (yet another) mall development in 2008, Tianzifang's artist community rallied to save the warren of original laneway houses that are uniquely Shanghainese.
2013
Richmond, Delta, Langley Township, Maple Ridge, and Coquitlam allow laneway houses, which also go by the name "carriage houses" and "garden suites".

Meanwhile, Burnaby's social-sustainability strategy identifies allowing laneway housing as a "priority action" to increase housing affordability
2003 (earliest)
However, from our interviews with those who have built laneway housing, the approvals process seems to be unevenly rigorous, and often depends on the City Planners' familiarity with the type. The recent municipal amalgamation seems to have exacerbated the problem; planners whose background is in the suburban context seem to have difficulty accepting the concept of laneway housing and are unfamiliar with its history and the large numbers of laneway houses in existence.
There is no standard term for secondary houses added to existing lots, and this void has led architects, planners, builders, and activists to coin a remarkable number of synonyms for these homes. Here's a by-no-means-complete list:
accessory dwelling
ADU (accessory dwelling unit)
ancillary unit
backyard cottage
carriage house
dawdy house
garden cottage
granny cottage
in-law unit
mother-daughter
ohana suite
secondary dwelling
SDU (secondary dwelling unit)
sidekick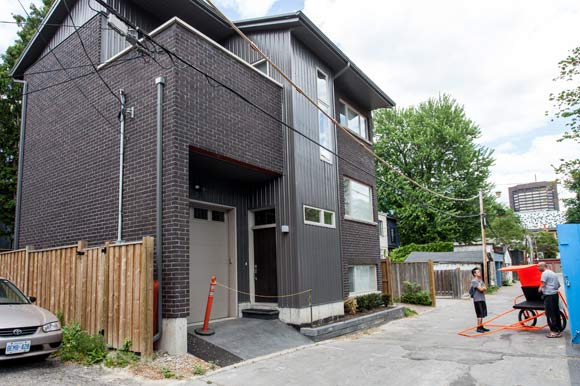 A laneway house in Toronto, Canada. Source: Yonge Street Media.